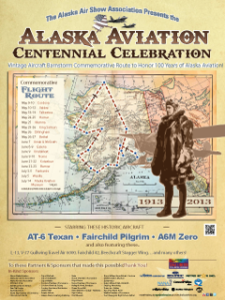 100 Years of Flight in Alaska
For 2013 the Alaska Air Show Association is proud to celebrate the importance and promise of Alaska aviation by providing barnstorming and fly-in activities, bringing living aviation history throughout the state over the course of several weeks this summer. Our goals are to recognize aviation achievement and make available a tangible, mobile museum that educates and inspires aviation enthusiasts and citizens at large of all ages.
By Kathleen McCoy, KSKA – Anchorage | June 7, 2013 – 1:00 pm
By Margaret DeMaioribus on June 21, 2013 in Audio
By Ben Matheson
Centennial Celebration Final Event – July 27
At Wasilla Public Airport:
1:00 – Fly bys from T-6's, L-13, BT-13, Harvard. Land and join the L-2, Grumman Albatross, Widgeon, Gull Wing Stinson, Volpar Turboliner Beech 18 and others on static display.
1:15 – Opening remarks from Mayor Vern Rupright and Chamber Executive Director Lyn Carden
1:30 – History or the first flight – Introduction of the Pilots and Museum staff.
1:45 – Meet and Greet Pilots – Free posters for pilot autographs
        – Youth Outreach, have planes, parachutes, for kids.
        – Aviation Museum will be there with free popcorn.
2:15 – Door Prizes and the Centennial Traveling Museum Exhibit on display.
2:30 – Begin to sequence the planes out for fly bys and departures.
Rides Available Contact Jane at 715-6708.