Floyd E. Gori, COL, USAF (Ret), Founder, Alaska Airshow Association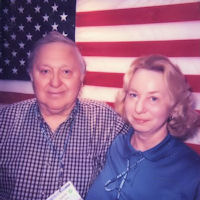 In 1990 the 21st Tactical Fighter Wing Vice Commander asked COL Gori (Ret) to assist with the concept of bringing aircrew members and old and new aircraft and local citizens of Alaska together in the spirit of the Elmendorf Airshow. This was the beginning of today's airshow association. The first event in 1990 was a few local citizens having dinner with aircrew members in the Elmendorf Officers Club the evening before the airshow as a means to foster community/military relations.
Each year thereafter, the meaningful exchanges between local community members and aircrews were greatly expanded. The airshow association, with volunteer support, partnered with the Armed Services YMCA, the Navy League, Air Force Association to perform community services and provide support to the flying community. The wholehearted support of local sponsors enabled the association to bring quality acts to Elmendorf AFB for the annual airshow and open house.
Because of the association's humble beginnings, today's airshows are the largest event in Alaska open to the public; thousands of people have been able to enjoy demonstrations by the Air Force, acrobatic airplanes, static displays of old and new aircraft, World War II aircraft and the Confederate Air Force. The core mission of the airshow association continues by bringing together the flying community and the civilian community.