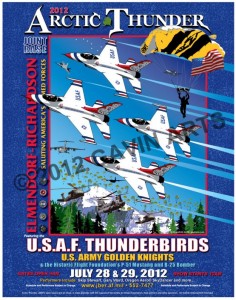 The Alaska Air Show Association is proud to unveil the official 2012 Arctic Thunder poster image, once again prepared by Gavin Arts. Paul and Kimberleigh Gavin's award-winning air show art work is recognized nationwide for their beauty and has won acclaim from the International Council of Air Shows. The Association is very appreciative of the care and quality they put into every design and their endeavor to capture the flavor of every region of the country. On top of that, Gavin Arts masterfully employs an interactive design process with the Association, and delivers on all products on-time and error-free. We are very excited with the image created for this year's Arctic Thunder.
The Alaska Air Show Association welcomes Mr. Jeff Glenny as our newest board member. Jeff is a private pilot and is one of the original committee members responsible for planning the Valdez May Day Fly-In and Air Show. He belongs to the Valdez Airman's Association and by day he is a regulatory advisor to Alaska's oil and gas industry. Mr. Glenny's passion for general aviation will help broaden the Alaska Air Show Association's vision for ultimately supporting regional air shows around Alaska
The Alaska Air Show Association recognizes Mr. Chuck Miller, owner of Chaz Limited, as our newest board member. Chuck brings his love for aviation and warbirds to next year's air show as the owner of AT-6 Texans and an A6M Zero.
The Alaska Air Show Association wishes to thank Col Rocky Cappozi, USAF Retired, for his decade long service to the Board, most recently as the Association's Secretary. Rocky's devotion and long service to the Association were instrumental in helping make the Arctic Thunder the world-class event it is today. The Association wishes the best to Rocky as he continues in his role as the Director of Aviation Technology at the University of Alaska Anchorage. The Association has long supported, and remains committed to, UAA's Aviation Technology program with student scholarships.
This year Jon "Jughead" Counsell's return as the announcer for Arctic Thunder 2012. Also, we welcome back Jim "Tucc" Tucciarone, with Wayne Boggs Air Boss as the the Arctic Thunder air boss, responsible for all aspects of aircraft operations during the air show.
Stay tuned to this site for more warbird participants as we honor the 70th anniversary of the Battle of the Aleutians.