Arctic Thunder Open House:
The Arctic Thunder Open House is hosted by Joint Base Elmendorf-Richardson, and provides an opportunity to share the aspects of military life and operations with Anchorage and the greater Alaska community, who support the base's ability to protect us at home, and engage overseas.
This year's Arctic Thunder is unique with the anticipated participation of aircraft from allied air forces. There are over 40 static displays, and over seven hours of flying activities, including six military demonstrations, the joint forces demonstration, and eight civilian and warbird demonstrations.
The Alaska Air Show Association is proud of its collaboration with the base and the community and contributing to the aerial displays.
Arctic Thunder is scheduled for June 30 and July 1, 2018.
Arctic Thunder Performers:
Frequently Asked Questions
How much does admission cost? Admission is FREE and general parking is FREE
Transportation: Arctic Thunder General Public Entry is restricted to either the Boniface Parkway or Fort Richardson gates only. Motor homes and RVs are prohibited.
Permissible Items:
Personal carts or wheelchairs for physically challenged visitors
Diaper bags for guests with small children
Small women's purses
Strollers for small children
Official service dogs (credentials may be requested)
Photo or video cameras; must be small enough to carry by hand
Binoculars
Folding chairs and lawn chairs
Recommended Items:
Water bottles; free water-refill stations will be available
Sunscreen
Hearing protection
Sunglasses
Sunhats/baseball caps
Prohibited Items:
Coolers
Alcohol
Backpacks
Duffle bags
Large purses
Camelbacks
Paint
Balloons
Large camera bags
Illegal drugs including

marijuana

Weapons (brass knuckles, mace, pepper spray, box cutters, firearms, knives, batons)
Military uniforms worn by non-military members
Gang or motorcycle club affiliated colors or clothing
Bicycles (inside the open house viewing area)
Motorcycles & bicycles ridden on base outside of viewing areas must wear a helmet
Scooters
Skates
Skateboards
Go-carts
Wagons
Umbrellas
All pets are prohibited from the Arctic Thunder grounds. Service animals assisting physically challenged guests will be authorized. At no time will pets be left unattended outside the area or in vehicles.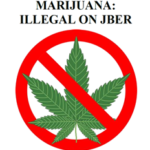 For more information, please go to http://www.jber.af.mil/arcticthunder/