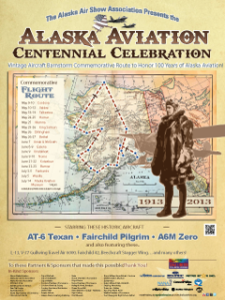 100 Years of Flight in Alaska
For 2013 the Alaska Air Show Association is proud to celebrate the importance and promise of Alaska aviation by providing barnstorming and fly-in activities, bringing living aviation history throughout the state over the course of several weeks this summer. Our goals are to recognize aviation achievement and make available a tangible, mobile museum that educates and inspires aviation enthusiasts and citizens at large of all ages.
The Alaska Air Show Association is proud to offer vintage aircraft from pre-WWII and WWII-era aircraft that represent Alaskan aviation of the period.…
The Alaska Aviation Centennial Celebration has sponsorship opportunities available and can be customized to suit your needs.
Bush pilots were instrumental in the development of the Alaska Territory, and play a key role even today. Learn about the early airline industry and the impacts of WWI in flight in Alaska's early days,
In the summer of 2013, come follow or fly along with the Alaska Aviation Centennial Celebration. For routes and schedules, click on the read more button.